Car Steering Wheel Booster Ball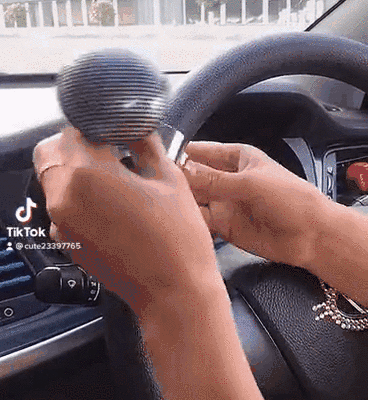 Description:
· The steering wheel mount on the underside of the product is made of alloy and the turntable on the top is ABS plated. There is a rubber ring on the inside of the circle bayonet, so it won't hurt the steering wheel.
·
Miniature steering wheel knob, generally driving through the corner always has to make a strong turn, if there is a steering wheel assister, the turning is more convenient.
·
Installed on the steering wheel to increase the steering arm and increase the torque.
·
The turntable can be rotated 90 degrees.
·
Suitable for steering wheel with thickness less than 32mm.
·
A rubber ring is attached to the inside of the bayonet to avoid grinding the steering wheel.
Technical specs:
· Name: Rotating Steering Wheel Knob
· Material: alloy (base part), engineering plastic (turntable part).
· Weight: about 200g
· 1*steering wheel knob
Instructions
:
·
Loosen the screw with the screwdriver to loosen the power ball until the lower fastening position can be opened.
·
Insert the inner lining in the proper position, clamp the knob on the steering wheel, and tighten the screws (do not tighten them first. Rotate the booster ball properly. If you feel comfortable, you can tighten the screws)
Notes:
· Please reduce the use during high speed driving.
· For safety, please avoid the position that hinders the airbag.
· If you feel that the knob is loose, please pad the film.
· It is dangerous to use this product without a seat belt. Please wear a seat belt.
· We are not responsible for any accidents arising from improper use.