Motorcycle Helmet Rain/anti-fog Film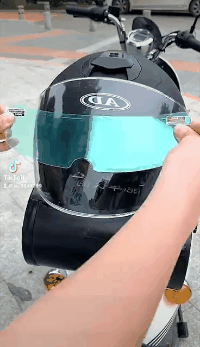 Description:
· Full frame universal helmet anti-fog patch.
· Durable anti-fog for more than 5 years.
· Protects eyesight and skin.
· After the rain has been wet, it will not reduce the Anti-fog effect, after wiping it with a cloth, it can be used continuously.
· Suitable for full helmets,and open helmets.
· Long-lasting anti-fog: Anti-fog film is made of special molecular structure material, and it has anti-fog function



Technical specs:
· Material: Special molecular structure material
· Color: Transparent
· Size :23.5x7cm
· Instructions:inside(anti-fog)/outside(anti-rain)Use it inside and outside for better result.


Instructions

:
· Please refer to the product's built-in manual for the usage method



Notes:
1. The size of this product is 23.5x7cm. Our store does not accept that the size of the anti-fog film is small for no reason
(please pay attention to the size before buying).

2. This product comes with glue, which is very sticky. Please place it.
3. If you don't understand, you can consult customer service to ask related questions.