The second generation rechargeable printing pen children's gift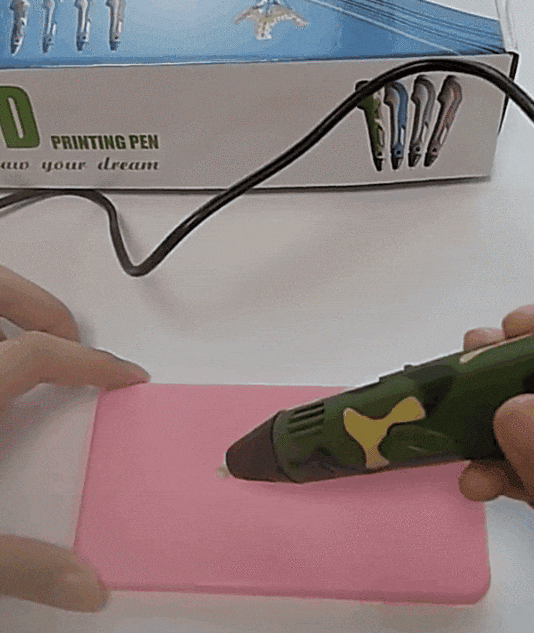 Description:
· A new generation of movement is silent and heat dissipation, making creation more efficient.
· Large screen display is convenient for seeing the temperature and better for creation.
· One-button discharge, returning materials, simple operation and easy to use. 
· Stepless speed change can adjust the speed better to make creation.
Technical specs:
·Item size: 180 * 20 * 20mm / 7.1 * 0.8 * 0.8in
·Item weight: 60g / 2.1ounce 
·Package size: 210 * 155 * 55mm / 8.3 * 6.1 * 2.2in 
·Package weight: 190g / 6.7ounce 
·Material: ABS 
·Color: blue, purple, pink, camouflage (optional)
·Working voltage: 5V 2A 
·Rated voltage: DC 5±0.25V 
·Power adapter: AC 100V-240V 50/60Hz 0.35A 
·Adapted consumable: PLA 1.75±0.02mm/ABS 1.75±0.02mm 
·Working conditions: 10℃-35℃
·relative humidity: ≤85%
·Printing temperature: 160℃-230℃ 
·Discharge method: click the button to continue discharging 
Instructions

:
· Insert the power supply. 
· Press and hold the power on. 
· Press the up and down keys to adjust the consumable mode PLA/ABS. 
· Press the feed key to confirm the mode. 
· Insert the consumable for 3D drawing. 
· Press the return button to shut down. 
Notes:
·
Due to the light and screen difference, the item's color may be slightly different from the pictures.
· Please allow 0.5-2cm differences due to manual measurement.
· Both PLA/ABS consumables can be used, and one color consumable is randomly delivered. 
Package included:
· 3D Painting Pen   x 1

·
Charger*1
·
Manual *1
·
Printing pen socket*1
·
Picture album*1 (not included in single pen)
·
Consumables: 10m/109m/239m